ALBUM
Album: B.O.C Madaki- Allah Ya Tsare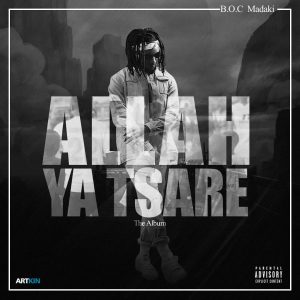 Pride of the Northern Nigerian youth and top-notch bilingual rapper BOC Madaki, an award-winning Hausa rapper have decided to bless his fans with a gift of an album before the year finally ends.
The Bauchi born hip-hop head just unveiled a 7track album titled "Allah Ya Tsare" which simply means "Let God Protect" his people of course…
Allah Ya Tsare album by BOC Madaki is another project that conforms to his style of dropping albums yearly. The chain started in 2015 when he released a 19track project he titled "No English". The album put him on the map and since then he has remained consistent with his yearly project.
We almost thought 2018 will be different, while the hope for a new project in 2018 was almost lost, the Northern Nigerian hip-hop gladiator pulls through with this masterpiece intelligently crafted to suit his audience and also initiate an expansion.
The album features three guest appearances Kahli Abdu, Idreal and his go-to producer C Man who laced his sweet voice on the track "Idan Da Rai".
Producers on the project are Shambee Puzzle, Dj Steev, Kahli Abdu, and ShugarBeatz while mixing and mastering of the whole project was done by C Man…
For booking and inquiries, you can reach out to +2347084288312 or contact BOC Madaki through his social media handles @BOCMadaki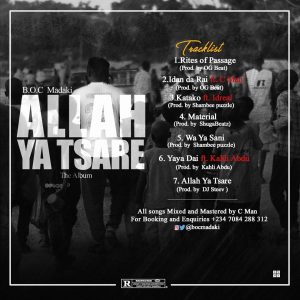 1 Comments